Scientific marketing runs on strategy.
Customer Profiling
Targeting & Segmentation
Competitive Analysis
Industry Analysis
Revenue Model for CLV
Market Positioning
Product Development
Clear Differentiation
Identity creates connection with your audiences.
Company Naming & Slogan
Product Naming & Branding
Logo, Icons and Styling
Brand Platform
USP Articulation
Complete Messaging
Offers & Domains
Content & Voice
On-point media turns viewers into believers.
Social Media
Compelling Video
Websites
New Age Ad Assets
Outdoor Media
Print Media
Traditional Ad Assets
Infographics & Ebooks
Consistent & predictable leads are your lifeblood.
Social Media Marketing
Search Engine Optimization
Pay-Per-Click Marketing
Online Ad Buying
Outbound and Direct
Live Marketing
Traditional Media Buys
Lead Buying
Systems & staff for measurement & management.
Marketing Management
KPIs & Dashboarding
Marketing Analytics
Custom Software
Conversion Optimization
Marketing Automation
PM / ERP Software
Sales Software / CRM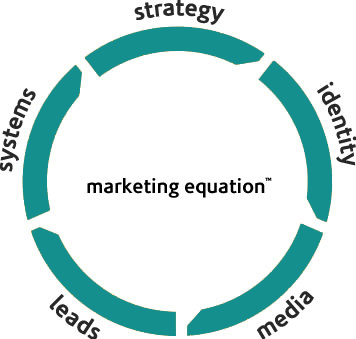 A Better System – That Yields Better Results.
Vastly superior in concept and execution, yet simple in practice, the marketing equation is the latest innovation in marketing for small business. This innovative approach, focused on performance, is the most complete and cohesive formula for achieving marketing results. Implementing this 5-factor formula efficiently leverages human capital, leaving businesses with more time, more money and documented results. For added assurance, real-time dashboards (available to the client), report effectiveness of marketing endeavors online and offline.
Embrace, THE SCIENCE OF A BETTER MARKETING SYSTEM
Never Spend The Same Dollar Twice
It's our motto but more than our motto, it's our why and it's where we end up. The Marketing Equation prevents businesses from ever wasting a dollar on marketing.
Stop Wasting Money
On-Target Always
Simply put, the Equation keeps you on target always with a guide post continually in front of you. It has been used on hundreds of companies to successfully get them where they need to go, primarily because of it's scientific yet cohesive nature.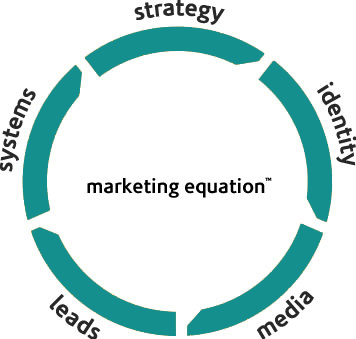 Your Bag
Of Secret
Weapons