May 22, 2017
Much to the chagrin of the high school version of myself, stuck in a sixth period calculus class, math makes the world go round.
Here at Savavo, marketing is our world. So, then, math is the lifeblood of our marketing; however, beyond marketing budgets, no one really thinks of marketing as math. There is a perception that marketing is right-brained, an art if you will, fluffy and ethereal. While it is true that in our content-saturated world creativity is a must for campaigns to stand out, the bottom line is this: marketing is a science that relies on math as heavily as any other scientific discipline. That's why we use the Marketing Equation.
Meet the Marketer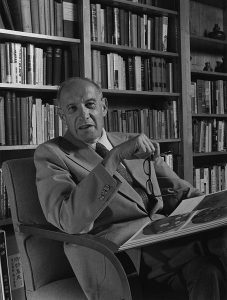 Do you recognize this guy? He's kind of a big deal. Just look at him. Nothing says "wise" and "business savvy" like a 20th century black-and-white photo of a man wearing a suit in a library.
Meet Peter Drucker, the father of modern management theory. He once made this profound statement:
"Because the purpose of business is to create a customer, the business enterprise has two—and only two—basic functions: marketing and innovation. Marketing and innovation produce results; all the rest are costs. Marketing is the distinguishing, unique function of the business."
This statement is at the core of everything that we do. It influences the way that we think. It influences how we view marketing. It sparked the creation of the Marketing Equation.
Background
G Leavitt, the founder of Savavo, created a successful marketing agency after graduating from college. He helped hundreds of businesses in all aspects of marketing and began to notice all the problems plaguing marketing; he observed businesses fail as the result of weak marketing acumen. He researched those weaknesses and then enlisted the help of in-house executives and trusted third parties to find solutions. After working for five to six years, they developed the Marketing Equation: a 5-factor roadmap to marketing success.
Marketing is Math
Like the name suggests, the Marketing Equation is just that: it's an equation. It's math, comprised of five segments: strategy, identity, media, leads, and software.
Let's assign each segment a numeric value, such as 5. If you multiply these values together, you get 3,125. 5x5x5x5x5. However, if even one of those values is a lesser number or (heaven forbid) a zero, the outcome is dramatically different: 5x5x5x5x3 = 1,875; 5x5x5x5x0 = 0.
Each segment in the Marketing Equation is equally important. If even one segment lacks in any area, then the whole marketing plan suffers; there is no overcompensation, and each segment plays a crucial role to achieve the highest possible results.
The Nitty Gritty
So what exactly do the segments of the Marketing Equation entail? In the words of a favorite luchador, Nacho Libre, let's get down to the nitty gritty. For the next few weeks, we'll be writing a series of blog posts, each highlighting part of the equation. If you're really impatient, you can head on over to our Marketing Equation webpage where you can find the Reader's Digest version. Using the Marketing Equation won't help you find algebra's infamous missing "x," but it will help you grow your business predictably and profitably with real ROI and real results.
Leave a Reply